Tripawds is a user-supported community. Thank you for your support!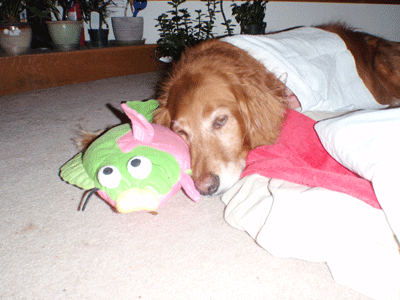 Opie:  I've been getting a lot of toys lately.  Here I am with my new halibut.  He makes a really cool honky sound whe I bite him.  mmmmmm halibut…..
I am an excellent sleeper.  I can sleep almost anywhere.  Here are some photos of me when I was still a Quad Pawd.  I have lots of adventures.  Soon, when I feel better, I will have many more.  Until then here are some places, I have slept:
So ya see I am the best napper ever!
Lazy is the new cool.
Mom will write something later.  She took me to that bad place again today.  The v-e-t.  aaarrrrrgrrrrrrrrr. I hate that place.  Anyway, they told my mom that I had a seroma, which explained the massive wet spots that mysteriously appeared aallllllllllllllllllllllllll through the house.  Well, when one place got soaked, I moved to another…I'm no dummy.  Since I leaked all over, I feel much better.  I got to plow the driveway with Pop.  I  sit beside him and drive up & down the driveway.  I left a big puddle on his seat.  It is supposed to be 40 degrees below zero next week.  Mom is talking about taking me to work on Monday and I get to lay under her desk.  She will probably make me wear that coat she made for me and I'll have to wear booties.  Last winter I lost one of my favorite orange booties, but now that I only have three feet, it doesn't matter.  How convenient is that?
I feel like a treat, so I am going to go to the door and pretend I need to go poop.  I always get a treat when I come back in.  I have never had so much peanut butter in my life!   mmmmmm….peanut butter.