Tripawds is a user-supported community. Thank you for your support!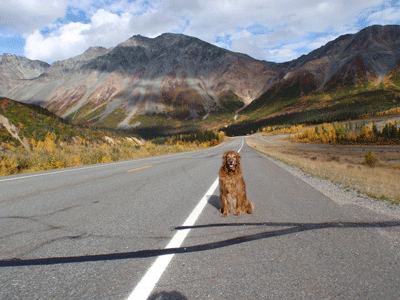 Well, tomorrow is stitches-out day.  I am really glad because they are sooooo itchy.  I want to scratch so bad thatI try to sneak behind the couch to do it, but Mom & Pop are on to me.  They keep making me stay in sight.  I'm still draining a little from one spot, but the v-e-t said that I could still have my chemo treatment tomorrow.  Pop is kind of sad because I am just starting to get back on my feet and he thinks the chemo will knock me back down.  Mom says a couple days of being a little sick over the next three months is worth the potential benefit gained.  I hope I don't get too sick.
Pop has been giving me "raspberries" on my shaved skin.  It really tickles and makes me jump and wag my tail.  My mom's friend Laurie (Frankie's & Snarfles' mom–I'll have to post pictures of my friends) gives me "raspberries" too when I am at work.  Today at work, when Mom and I were leaving, I barked at one of the ladies…it echoed in the information center. I think I startled everyone including myself.  I sound pretty ferocious in a big spacious building.  I got to go visit some of the other biologists at Mom's work before we left.  Everyone was really nice to me and Lisa (Killae's mom) gave me Yummy Chummies in her office.   ….mmmmmmYummy Chummies….
Mom noticed today that I sound different when I run.  She says I used to sound like a two-step…1 2 3 4 1 2 3 4 1 2 3 4, but now I sound like a waltz…1 2 3 1 2 3 1 2 3.  I don't know what the heck she is talking about, but what can ya do?  People are crazy.