Tripawds is a user-supported community. Thank you for your support!
The days are flying b y so fast.  Thanks, Peyton for giving me a nudge.  Sometimes I get on the site and spend so much time reading everyone else's post and commenting on them, that I am all talked out and don't update my post.  Anyway, I am doing really good.   My CBC was good last Friday, so my second chemo treatment is this Friday.  I hate going to the v-e-t, but I guess I have to.
My mom took me for my longest three legged walk ever so far!  We used to walk at lunch time every day before my surgery.  My favorite walk is the boreal forest trail, and my favorite swim is in the Chena River at the BLM offices, but the water is stiff now, so no swimming until May.  Mom is lucky to work on a state waterfowl refuge, so there are lots of trails and puddles to play in.  Today, it was a little chilly, so mom put on my booties before we went outside.  We walked across the first field and then across the second field and I tried to get on the boreal forest trail, but mom said I wasn't ready yet.  She is afraid that if we go on the mile-long loop, I will get tired half way in…and I am too heavy for her to carry.  Pop says she should take the little sled that we sometimes use to slide down the driveway.  Mom said she would think about it, but didn't figure I would stay in it.
How far can the rest of you tripawds walk?  Rear leg amputees can probably go farther than front-leggers, right?   Anyway, I think I can make the loop, but my mom is just worried.  I took a nice nap on her backpack when we got back.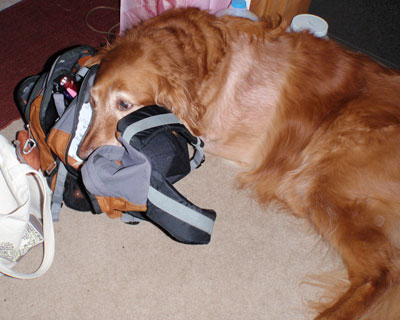 I like to sleep on mom's important stuff because she never goes anywhere without it.  That way, I wake up if she goes anywhere and I can tell her I want to go too.
I wish we would get more snow, like where Peyton lives.  We need some fresh stuff to jump around in.