Tripawds is a user-supported community. Thank you for your support!
Crikey!  Where to start?  It snowed today!  Hooray! The weather is kind of mild for December, but we are two feet behind our average snowfall and that does not make me happy.  The snow today was just a little dusting, but at least it whitened things up again.
Mostly this weekend I played on the computer.  I actually was falling asleep on the computer at one point.  I worked hard.
My pop and I played outside a bit, then I came in all tuckered, but didn't want to give up my tennis balls.
Yup.  You're seein' straight.  That's three…count 'em, three tennis balls in one incredible tater trap.  You can't see the third one, but it is there.  Waaaaay far in the back behind the double decker.
Peyton, that sock thing is sooooo 70s dude.  (By the way, I think your dad wears the same kind of socks as my pop)  I have two words for you: Booo-Tees.  My mom says that at lunch time tomorrow, we are going to walk the boreal forest trail and I am really going to have to booty-up.  So, next post, you will see the most perfect trifecta, Leonardo DaGrinchy, toes nestled in the wildest booties around.  If it gets much more below zero, I may even have to wear my coat too!
Oh yeah, Wyatt Ray, you asked where I live:  Fairbanks, Alaska.  It is pretty chilly in the winter and the days are short…today is 3 hours and 47 minutes of daylight.  Mom and I go to work in the dark and come home in the dark.  Sunrise is 10:53AM;  Sunset 12:46PM.  But after December 21, the days will start getting longer and longer, when in June it will be light 22 hours of the day!  Can anyone say, "Swimming! all night long!"  Wooowhooo can't wait.
My parting shot.  Pop was wrestling with me tonight and I lost so I had to wear my bandana on my head while mom kept calling me 'Sister Opie.'  Mom calls me Sister Opie when she dries me off after a bath and wraps the towel around my ears and under my neck.  I'm not sure why, but I don't try and figure out Mom…she has issues.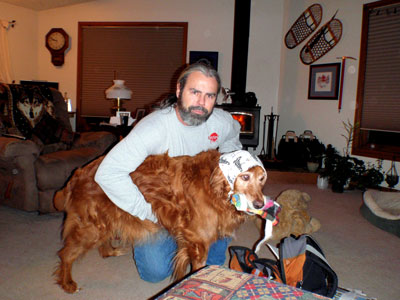 oh. oh.  I hear somebody in the peanut butter jar…gotta go.