Tripawds is a user-supported community. Thank you for your support!
I cannot believe how time flies!  I have so much to say.
First.  Yes Comet Dog, I am orange! I love orange.  My mom's hair is the same color as mine.  When people say to her, "Wow.  Your hair is the same color as your dog."  She says, "Yes.  I take him to the hairdresser every six weeks for a dye job."  Actually what happened is one day my mom drove to this place and she cut some of my hair and went inside.  When she came out her brown hair was…well…orange, like me.  My pop thinks she is crazy.
Anyway, I went on a long walk with mom the other day at work.  First I had to get my booties on my DaGrinchy toes.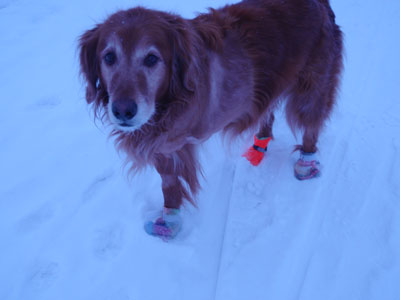 We walked all around the fields as the sun was setting.  It was cold, but I was soooo glad to be outside.  I chased the balls that mom threw and wasn't fooled at all when she threw snowballs.
After work, we played in the fields again and mom tried to take a picture of the Christmas tree next to the barn.  The snow was falling and it was cold, but the tree was pretty.
I thought I had a lot to write, but I find myself at a loss for words.  I just want to wish all of my tripawd friends a Very Merry Christmas!  I hope you all find Yummy Chummies, bully sticks, beef trachea, Greenies, squeaker toys and stuffies under your trees on Christmas morning.
A special Christmas wish to Peyton, Dillon, Comet, Nova, and Wolfie.  Peace on Earth.
Oh boy I almost forgot.  Comet, look what my Mom found in a store while she was Christmas shopping…
The photo is blurry, but it is "Anti Monkey Butt" powder.  Let me know if you need some to make your monkey butt brother go away….Bwaaaahahahahahahah